Skip to Content
Dental Veneers in Denver, CO
Learn More About Dental Veneers from Reiser Dental
At Reiser Dental, we believe everyone should feel proud of their smile. However, some of our patients are dissatisfied with misshapen, discolored, or damaged teeth. Luckily, you now have plenty of options when it comes to restoring the natural look of your teeth. Among your choices are dental veneers. These thin shields cover the outside of your teeth, putting on a beautiful front for your smile. Our team is happy to walk you through this procedure and decide if it's right for you. Whether you're considering porcelain veneers or another of our services, let our team of dental professionals help you!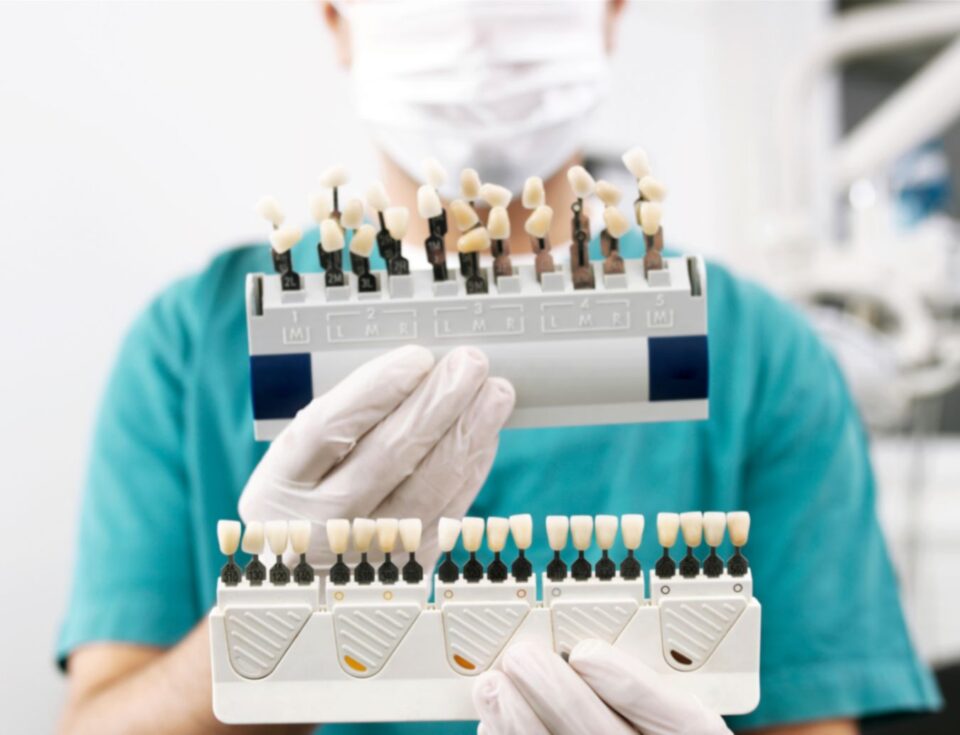 What Are Veneers?
It's one thing to hear veneers described as a protective shell for your teeth and another to truly understand their function. In most cases, Reiser Dental recommends cosmetic dentistry veneers for patients who want to enhance the look of their already-healthy teeth. Contrary to what many think, veneers aren't an alternative to crowns, and should only be used for those in good general oral health. No matter which type of veneers you choose, you can expect a final product to match the original color of your teeth. Learn more about the two basic types of veneers:
Porcelain dental veneers: These are among your best options when it comes to putting veneers on your teeth. Porcelain typically lasts longer than other materials and provides the most natural-looking appearance. What's more, porcelain resists future staining as well!
Composite veneers: Veneers made from composite resin are your best option if you need to stay within a budget. However, this material doesn't last as long as porcelain, with reduced durability in comparison.
Deciding If You're a Good Candidate for Veneers
As we noted earlier, the best candidates for veneers are those already in good oral health. Teeth whitening veneers aren't a substitute for fillings, crowns, or other restorative dental work. If you have significant amounts of tooth decay, it's best to address those problems with additional treatment before considering veneers. Those who grind their teeth may also want to think twice about getting veneers. Constant grinding can damage these tooth-colored shells and result in additional dental bills to repair them. No matter your circumstances, be sure to talk to the team at Reiser Dental. We'll let you know for sure if dental veneers are appropriate for you.
How Can I Benefit from Dental Veneers?
Cosmetic dentistry veneers come with a plethora of benefits when placed by an experienced dentist. At Reiser Dental, we love hearing from our patients on what they love about their brand-new smile. Some of the most prevalent advantages to veneers include the following:
Increased confidence in one's appearance
Exact match to the color of the existing teeth
Covers up unsightly cracks and chips
Preserves most of your tooth, where other restorative methods may not
Resistant to future staining
Can last up to 15 years with proper upkeep
The Process for Placing Veneers
The process for placing veneers can be summed up in three steps. First, we begin with an evaluation. You'll visit Reiser Dental for a comprehensive assessment of your health, including x-rays and other imaging. During the second phase, we'll remove a small portion of your tooth and make an impression of it. This impression is sent to a dental lab, where they'll create veneers custom-fit to your mouth. Finally, you'll make a third visit where we'll place the final set of veneers and cement them into place. Don't worry; we'll outfit you with a temporary set while you wait on the dental lab Feel free to ask our team for elaboration on any of these steps.
Schedule a Consultation with Reiser Dental
Still interested in veneers? Be sure to talk to Reiser Dental for more information on this procedure. We understand the permanent veneers cost can seem excessive, but we do everything possible to provide you with affordable dental veneers. With proper maintenance, your new smile will last you over a decade. Think of all the benefits you could enjoy that time! Get in touch with our office for a consultation or to schedule an appointment.